WatchGuard Application Control

An integrated security subscription for WatchGuard XTM Series appliances
WatchGuard Application Control is a fully integrated security subscription for all WatchGuard XTM appliances. It enables IT administrators to monitor and control access to web and business applications to enforce policy, and protect productivity and network bandwidth.
Why add this subscription to your XTM solution? WatchGuard Application Control tightens security across your extended network and adds productivity safeguards that go straight to the corporate bottom line. And because Application Control is integrated with the XTM appliance, you'll have another powerful layer of defense in a single cost-effective solution – with no additional hardware to buy. Bundle it with the complete suite of XTM security subscriptions for even greater savings and comprehensive protection.
Only WatchGuard delivers this unprecedented level of application control in an affordable, all-in-one network security solution.
Overview:
Application Control keeps unproductive, inappropriate, and dangerous applications off-limits
Stay on top of the applications running on your network for tight security and high productivity with a subscription to WatchGuard Application Control. It allows you to establish which applications that can be used within your organization, by whom, and when.
Exercise finne-grained control over more than 1,500 applications, organized by category.
Rely on over 2,300 signatures and sophisticated behavioral analysis to identify applications trying to enter your network, regardless of destination address or L7 protocol, including encrypted applications that are specifically designed to bypass ordinary security measures.
Establish acceptable use policies for users and groups by category, application, and application sub-function for maximum flexibility.
Take advantage of real-time and historical visibility into what's being accessed on your network to report on application usage. Use the information to demonstrate compliance, evaluate employee need, and refine acceptable use policies.
Application Control in Action
With Application Control, you can selectively allow, block, or restrict access to applications based on a user's department, job function, and time of day, and generate reports on usage. For example, you could choose to:
Block use of YouTube, Skype, and QQ at all times, during key business hours, or never
Block use of all P2P applications for anyone who is not part of the management team
Allow the marketing department access to Facebook and other social networking sites
Allow Windows Live Messenger for instant messaging, but disallow using it for file transfers
Limit streaming media applications to specific times of day
Report on the top ten applications used in the company
Report on the use (or attempted use) of applications by any individual in the company
Blocked Applications:
Control and block more than 1,500 Web 2.0 and business applications.
Here is just a sample of the applications that IT can control with this subscription.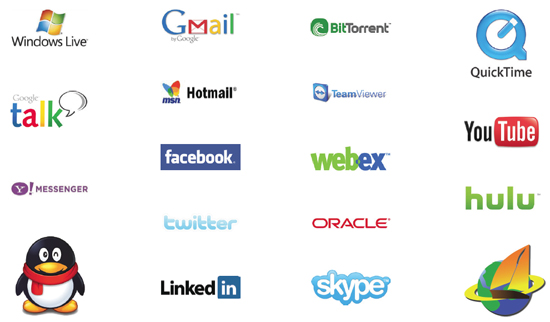 Don't let rogue applications put your network in danger, or allow popular social networking sites, games, and IM apps to eat up bandwidth and squander work hours. Let WatchGuard Application Control keep your network safe and the work flow uninterrupted.
All-in-One Security Solution:
Fully Integrated Security for Comprehensive Protection
WatchGuard XTM appliances combine with powerful security service subscriptions to offer comprehensive protection from malware.
Because the threat landscape is always changing, WatchGuard XTM solutions are designed to be able to easily add new network defense capabilities through security subscriptions, so costly hardware upgrades are not necessary.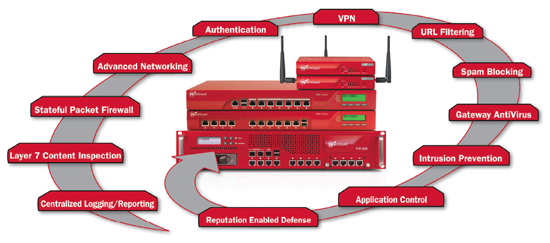 Subscriptions:
Managing Security Subscriptions Is Easy
All security functionality on your WatchGuard XTM solution, including Reputation Enabled Defense, can be managed from a single intuitive console for maximum effciency and ease of use.
Security activity identified by a service is logged and stored for easy reporting so you can take immediate preventive or corrective action.
All management tools, including rich reporting and monitoring, are included with your WatchGuard appliance purchase. There is no additional hardware or software to buy.
Other WatchGuard Security Subscriptions
WatchGuard offers a full suite of security services to boost protection in critical attack areas. Besides Application Control, subscriptions include:
Reputation Enabled Defense* is a powerful cloud-based URL reputation lookup that protects web users from malicious web pages, while dramatically improving web processing throughput.
WebBlocker URL and content filtering, with HTTP and HTTPS inspection, allows you to control access to sites that host objectionable material or pose network security risks.
spamBlocker blocks nearly 100% of unwanted email in real time before it can reach your internal mail server or client.
Gateway AntiVirus provides real-time protection against known viruses, trojans, worms, spyware, and rogueware.
Intrusion Prevention Service provides protection from attacks that comply with protocol standards but carry malicious content.
Buy the Bundle and Get the Works Get everything you need for complete threat management in one convenient package with a Security Bundle from WatchGuard. Each Bundle includes:
Choice of WatchGuard XTM appliance
Application Control*
Reputation Enabled Defense*
WebBlocker
spamBlocker
Gateway AntiVirus
Intrusion Prevention Service
LiveSecurity® Service for 24/7** technical support, hardware warranty, software updates, and threat alerts
Get a complete solution at an excellent price, with no additional fees, contracts, or hardware to purchase.
Got the Box?
Get the Software Suite If you already have a WatchGuard XTM appliance, turn it into a complete threat management solution with the Security Software Suite. The Suite includes all the security subscriptions listed above. (Suite does not include appliance.)
One-year, two-year, and three-year subscription packages are available for the Security Bundle and the Software Suite.
* Reputation Enabled Defense and Application Control are not available for Firebox X e-Series appliances. **Technical support hours/days for XTM 2 Series are 12/5.