WatchGuard Dimension

Cloud-ready Network Security Visibility Solution

Bringing Big Data Visibility to Network Security
From the C-level office to network administration, business decisions need to be made at light speed. The only effective way to make these decisions in the 21st Century? Visibility.
WatchGuard Dimension™ is a cloud-ready network security visibility solution that comes standard with WatchGuard's flagship Unified Threat Management platform. It provides a suite of big data visibility and reporting tools that instantly isolate and distill key security issues and trends, speeding the ability to set meaningful security policies across the network.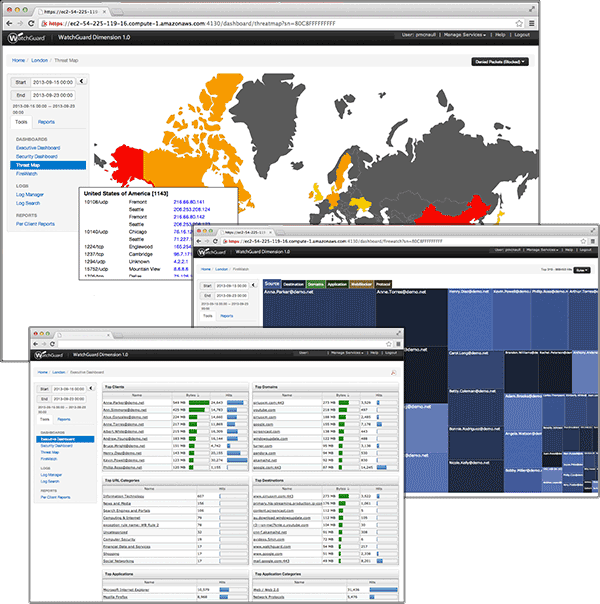 Reviewing massive amounts of data makes effective analysis impossible. Organize your thoughts around crystal clear data points in the Executive Dashboard.
Public and Private Cloud-Ready
Simply deploy or import a virtual appliance, which includes compatible OS, database, utilities, and WatchGuard server software. It can be in a public or private cloud, or on your server, desktop or laptop. No need to install, maintain, and patch an operating system. No need to maintain dependencies between version of operating systems, databases, and the WatchGuard server software.
Start with the Big Picture
Get a high-level view of network activity that pinpoints top trends, top clients, and correlated views of top users and applications. Then with just a click, you can drill all the way down to individual log data that reveals key details.
The Power of Visualization
Traffic is filtered in such a way that the most critical information or active users and connections is instantly brought to light.
Know at a glance who is consuming the most bandwidth, if there are unusual traffic patterns, which is the most-visited website.
Easily pivot, drill-down, and filter to get exactly the info you need, when you need it.
Find Patterns, Make Better Decisions
Choose from more than 70 comprehensive reports, with the ability to pre-schedule reports for email delivery to key stakeholders – from C-level execs and IT directors to small business owners. Special reports available for HIPAA and PCI compliance.
Zero Install
No complicated setup is required. Simply import a virtual appliance – includes OS, database, utilities, and WatchGuard server software.
WatchGuard Dimension instantly turns raw network data into actionable security intelligence. It gives you the ability to see and understand how to protect your business, set tight security policy, and meet compliance mandates.